Events
30 restaurants & stores that welcome your pet
NEXT TIME YOU VISIT US, BRING YOUR PUP WITH YOU!
Check our dog-friendly locations listed below:
DOG-FRIENDLY PATIOS
Burn
The Capital Grille
Chipotle
Grace & Shelly's
Le Macaron
Masa
McCormick & Schmick's
Naples Flatbread
Second Cup
Stage 62 Deli
Taps
Whole Foods
Yogurbella
DOG-FRIENDLY STORES
Bio New York
Charming Charlie's
Foot Gear
Gallery on Fifth
Mark Loren Designs
Natural Comfort
Nordstrom Rack
Premier Sotheby's
Rebeccas Ladies Fashions
Protocol
Shades by Spectacles
Signatures
Simply Natural
Spectacles
Sperry Top Sider
Stilista
Tommy Bahama
Yoga Loft
Z Gallerie
CLICK ON BELOW MAP FOR PRINTER FRIENDLY PDF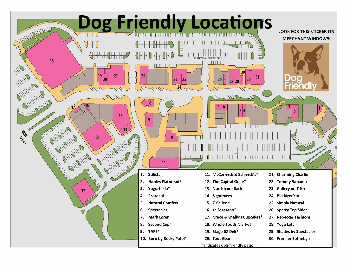 16 establishments. 1 walkable location!
AZN Azian Cuisine (thru Sept. 30)
Daily 3-6pm (Bar and patio only)
9pm to close (Sun-Thurs.) & 10pm to close (Fri. & Sat.)

DRINKS
Half off beer, cocktails and glasses of wine
Half off bottles of wine (except reserve list)
FOOD
Edamame $5
Samba Edamame $5
Lettuce Wraps with Chicken $5
Chicken Fried Rice $6
Spicy Calamari $6
Red Dragon Shrimp $6
Honey/Garlic Chicken $6
Beef Lo Mein $7
Pulled Pork Sliders $8
Korean Short Rib Sliders $8
Misoyaki Pork Belly Sliders $8
Walnut Shrimp Tartlette $8
Lollipop Lamb Chops $10
Black Pepper Filet--4 oz. medallions $10
SUSHI
California $5
Wakame Salad $5
Spicy Tuna Roll $7
Shrimp Tempura Roll $7
Spicy Salmon Roll $7
Ahi Poke $8
Blue Martini
Daily 4-8pm

Discounted food and beverages
BRAVO! Cucina Italiana
Monday- Friday from 3:30-6:30pm and 9pm-Close. Bar only.

$4, $5 & $6 Plates and Pours
Burn by Rocky Patel
Monday-Thursday 2-8pm
Fridays & Saturdays 2-9pm

50% Off all beverages under $14
25% Off beverages over $14
20% Off all Rocky Patel cigars
The Capital Grille
All day, every day at bar and lounge
The Grille's Signature Cheeseburger with Parmesan Truffle Fries | $18
Chilled Shrimp (3) Tossed in Ginger and Mustard Vinaigrette | $10
Miniature Lobster and Crab Burgers (3) | $16
Lollipop Lamb Chops (4) Herb Oil and Aged Balsamic | $18
Pan-Fried Calamari with Hot Cherry Peppers | $16
Parmesan Truffle Fries | $11
Chilled Seared Sushi Grade Tuna with Wasabi Oil, White Soy and Ginger Vinegar| $19
Miniature Mozzarella, Prosciutto and Basil Sandwiches (3) with 15-Year Aged Balsamic | $10
Miniature Tenderloin Sandwiches (3) with Wild Mushrooms and Boursin Cheese | $18
CAVO
Daily from 3:30-8pm

Half-price signature cocktails, select wine (glass & bottle) and beer

Specially priced food items including:
-Burrata Cheese $10
-Spicy Tuna Tartare $11
-Apple & Manchego Salad $6
-Shishito Peppers $8
-Maple Glazed Bacon Satay $6
-Grilled Cheese $7
-Zucchini Chips $8
-Octopus $12
-Potato Croquettes $5
-Korean Chicken Lollipops $8
-P.E.I. Mussels $10
-Garlicky Shrimp $9
-Mini Beef or Chicken Gyros $8
-Chopped Salad $8
-House-made Potato Gnocchi $8
-Cavatelli Pasta $9
-Chef's Special Sliders $10
-Bratwurst Sliders $9
-Veal and Ricotta Meatball $10
-Baby Lamb Chops $22
-Ceviche Trio $9
-Charcuterie $19
Counter Burger
Monday-Friday from 3-6:30pm

$5 Draft Beer, Well Drinks & Signature Wines
$5 Mini Burgers (2)--beef, turkey & vegan, Grilled Wings (6)--sweet sriracha or buffalo, Fried Dill Pickles, Loaded Tots & Parmesan Fries
$7 Premium Mini Burgers (2)--skirt steak or crab cake
MASA Naples
Sun-Thurs.: 3-6pm
Fri. and Sat.: 3-6pm and 11pm to close
DRINKS
$5 Bottled Beer, Select Margaritas & Select Wines
APPS
$6 Tacos (2), Pork Skewer, Quesadilla con Pollo, Ceviche, Guacamole & Chips, Churros
$3 Late Night Chips & Salsa

McCormick & Schmick's
Daily 3:30-7pm
DRINKS
$3.75 - $5.00 Cocktails
$3.75 Domestic Beer
$6 Glass of Wine
APPS
$3-$9
Naples Flatbread
Daily 4-7pm & 9-Close

$4 Tier 1 wines (8 varietals), $3.50 Well Drinks, Drafts and Bottled Beer starting at $1.99
BAR BITES
Bar Flatbread $6.99 Lobster Thermidor and Pietro add $2.00. Bang Bang and Costola add $1.00.
Mini Cheese Platter $6.99
Bar Pie $3.99 Toppings available at $.50 each.
Mini Bruschetta $2.99
Bar Mac & Cheese $3.99
Italian Chili Cup $2.99
Bar Wings Minimum Order of 4 @ $.75 each. Atomic, Mango Habanero, Parmesan Garlic, Hot, Medium, BBQ, Spicy BBQ, Carolina BBQ, Bang Bang or Caribbean Jerk. Bleu cheese or Ranch $.50 each.
Bar Salad $4.99
Bar Caesar Salad $3.99
Bar Grilled Cheese $3.99
Hummus Solo $2.99
Mini Feta Dip $2.99
Mini Dip $2.99
Pot Roast Sliders $6.99
Philly Cheesesteak Sliders $6.99
Sausage, Onion, & Pepper Sliders $6.99
Meatball Parmesan Sliders $6.99
Carolina BBQ Pork Sliders $6.99
The Pub
Monday-Friday 3-7pm
DRINKS
$3.25 Schooner draughts (14 oz.)
$4.25 Three Olives Vodka & well drinks
$5.25 Select glasses of wines
$6.25 Signature cocktails
APPS- $3.95
Southwest Nachos
Young's BBQ Crisps
Beer-Battered Onion Rings & Mushrooms
Spicy Pimento Cheese Dip
Pub Pretzels
Buffalo Chicken
Rusty Bucket Restaurant & Tavern
Monday-Friday 3-6pm at the Bar

--Half-price apps and pizzas
--$1 off all beer, wine & cocktails
--The Juicy Lucy (Bucket Double Cheeseburger) for $5
Silverspot Cinema
Mon-Thurs 4-7pm
MONDAYS--$5 pizza
TUESDAYS--$3 tacos & $5 house margaritas
WEDNESDAYS--$5 cheeseburgers & $3 draft beer
THURSDAYS--$3 lobster roll and $5 wine
Stage 62 Deli
Daily 4-6pm
$4 Menu including:
--Reuben Slider
--Grouper Taco
--Hot Corned Beef Slider
--Char-Dog
--Veggie Quesadillas
--Chopped Liver with veggies and bagel crisps
--Fried Chicken Bites
Half Price beer, wine & cocktails
Taps Restaurant Bar & Lounge
Daily 1-7pm

DRINKS
$1 off draft beer
$3 Miller Lites
$5 house wines
$5 premium wells including:
--Tito's Vodka
--Jose Quervo tequila
--Jack Daniels whiskey
--Bombay Sapphire gin
--Cruzan white rum
$5 HAPPY HOUR APPETIZERS
--Bacon Wrapped Jalapenos
--Baked Meatball and Ricotta
--Bavarian Pretzel
--Pesto and Fresh Mozzarella Bruschetta
--Meatball and Ricotta Bruschetta
--Beer Queso Nachos

The Wine Loft
Daily from 11:30am to 6pm

$5 selected wines, beers & cocktails
$5 appetizers
Now thru August 31
With every $150 purchase receive a gift card for a complimentary manicure at Salon Zen Aveda.
It's time to re-fresh your wardrobe with Signatures New Arrivals!
* One gift card per person
* Offer excludes Special Order
Select great items from our recently stocked 70% Off Sales Rack!
Signatures at The Mercato 239-254-5800